Delivery Time
deliverable instantly
The best and most popular green tea from China. Also called dragon well tea or Lung Jing. 100% handmade. Highly aromatic. Due to the lower content of catechins, it does not taste bitter even when steeped for a long time, unlike most other green teas.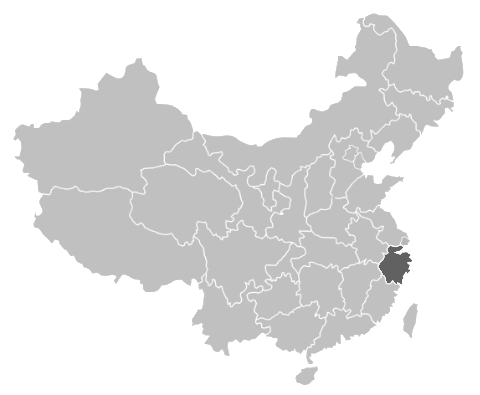 Origin:
Shaoxing / China
(about 40km south of Hangzhou)
Recommendation for the preparation:
| | | |
| --- | --- | --- |
| | | |
| 10 - 12 g / litre | 4 min | 80 ℃ |
Let it infuse for at least 4 minutes
Harvest time:
Early April 2021 (spring harvest).
Volume discount:
You will receive a discount of up to 10 percent on the purchase of our teas. Details can be found here.
Special characteristics:
Please note that this is a high quality Long Jing from spring picking. The young buds still have fine, downy hairs.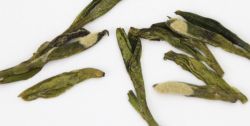 During production, these hairs also gather into small balls or globules and contribute to the wonderful aroma and flavour. Long Jing is heated under pressure in a kind of pan.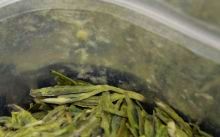 As a result, these collections of hairs are also pressed into the leaf (see illustration for a few collected examples). These are signs that can only be found in high-quality Long Jing from the spring harvest. You will see the same effect when you open a package. The fine hairs also attach themselves to the inside of the package due to static forces. These tiny hairs float with the infusion. This effect is particularly pronounced and characteristic of teas like the genuine
Pi Lo Chun
.
Production and packaging: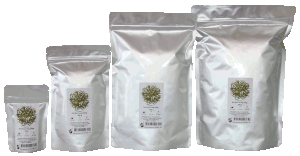 Packaging sizes
100% handmade. We get this tea directly from small producers and tea farmers in China. The tea is grown and processed in a traditional way. Such high qualities are usually produced by the tea farmers only for the local Chinese market. Therefore we are regularly on site with the producers. The direct contact to the tea farmers enables us to offer very reasonable prices with outstanding tea quality. All our teas are checked for pesticide residues by an independent laboratory. We deliver the tea in re-sealable and aroma-safe stand-up pouches made of ALU/PE.
More Information

| | |
| --- | --- |
| Charge | L003000 |
| Delivery Time | deliverable instantly |