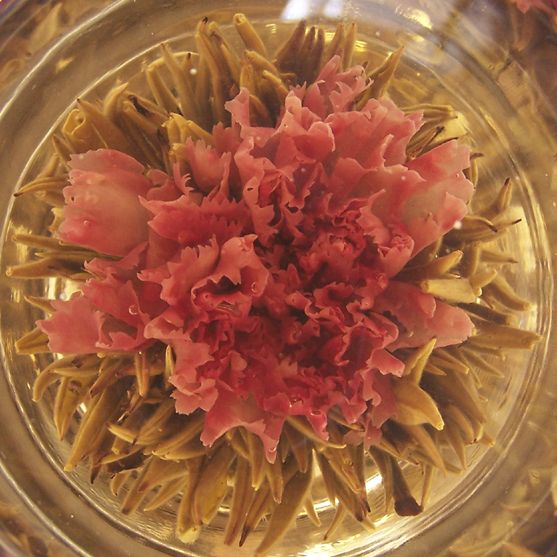 Green Tea Artworks
In China,
tea artwork
(Gong Yi Cha) is a special kind of tea, which is produced by handcrafting green tea, very rarely black tea, with different flowers. For many German tea drinkers, the art tea "Mu Dan" tea rose (peony) is already a household name: delicate green tea leaves are bound together to form a rose shape. The blossoming of the dry tea rose when infused with hot water is a special treat for the eye. The excellent quality of the green tea becomes almost a secondary matter. Now new creations of these green tea specialities are coming from the land of green tea, which put "Mu Dan" far in the shade in terms of beauty and colourfulness. These new creations are produced in the Huang Shan region (Yellow Mountain), one of the most beautiful and important tea growing regions in China. The famous "
Huang Shan Mao Feng
" is used as raw material - next to Lung Ching and
Pi Lo Chun
the best Chinese green tea. The best spring pickings between the end of March and the beginning of April are tied together with twine threads to form shapes such as cone, ball or peach. In the bundles are hidden flowers like chrysanthemum, ball amaranth, jasmine or even carnation. Both the green tea and the tea containers are 100% handmade. When infused (see below) the tea containers literally blossom out. Only now are the flowers released from their hiding place for viewing - an absolutely fascinating spectacle. The fine flowery taste of "Huang Shan Mao Feng" then rounds off the unique tea experience. A must for every tea lover, but also ideal as a gift idea.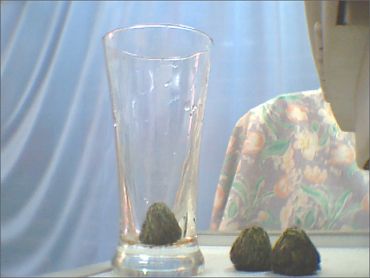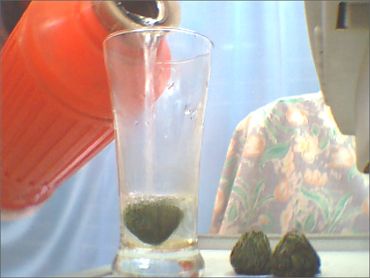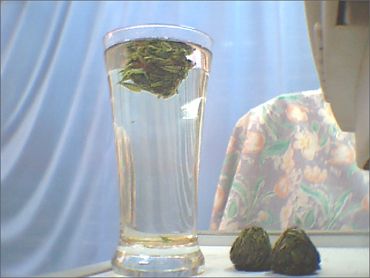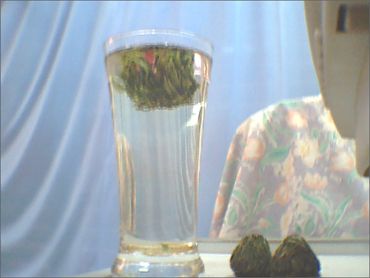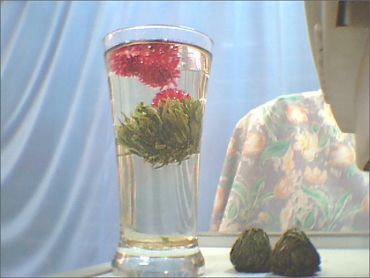 In Germany only a few are known of this tea variety. The best known is the "Mu Dan" peony, in which there are no hidden flowers at all. Here you get an overview of the most beautiful art teas from the Huang Shan region. The following table shows the Chinese name with the German translation and the information about the flowers in the left column, the dry appearance in the middle column and the infused tea in the right column.
Flowers on silk brocade

Chrysanthemen

Quince - Snow lotus

Ornamental quinces

One hundred flowers no. 1

Ball amaranth, ornamental quinces

identical with Zhu Mei Xue Lian

One hundred flowers no. 2

Ball amaranth, decorative quince, chrysanthemum

identical with Zhu Mei Xue Lian

Gold and Jade

calendula, ball amaranth, chrysanthemum

Oriental Pearls

Lily, Jasmine

identical with Zhu Mei Xue Lian

Jasmine Bouquet

jasmine, ball amaranth, chrysanthemum

identical with Jin Yu Man Tang

Bright colours

Carnation

identical with Jin Yu Man Tang

Oriental Beauty

Jasmine, Chrysanthemum. Not to be confused with the

Dong Fang Mei Ren

of the same name from Taiwan or Fujian/China.

Millennium Red

Ball amaranth

identical with Zhu Mei Xue Lian

Lucky Blossom

Lily, ball amaranth