Delivery Time
deliverable instantly
An old, rediscovered tea variety with special taste accents from Guizhou. This year in the highest quality level. It stands out due to the lighter colour of its leaves, which gives the tea its name. It is however a pure green tea. In taste it offers nuances of apples, pears, cinnamon with various spice aromas. A special feature is the high content of theanine.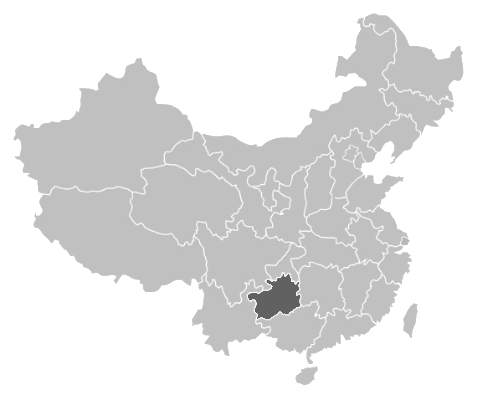 Origin:
Tongren / Guizhou / China

Recommendation for the preparation:
| | | |
| --- | --- | --- |
| | | |
| 10 - 12 g / litre | 3 min | 80 ℃ |
Harvest time:
Early April 2021 (spring harvest).
When preparing the tea, make sure that the quantity is sufficient! As the tea has a large volume, one is easily tempted to take too less of it for an infusion.
Volume discount:
You will receive a discount of up to 10 percent on the purchase of our teas. Details can be found here.
Special characteristics: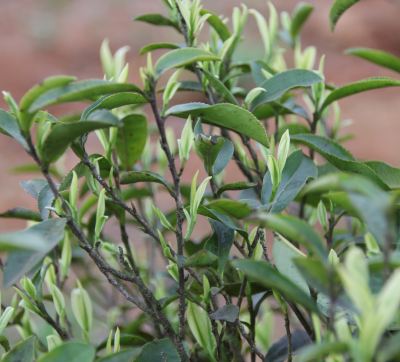 Jingshan Bai Cha
A tea variety from Guizhou that had almost been forgotten in the meantime. The name of the tea comes from the nearby mountain Fanjingshan. Guizhou province is one of the poorest regions in China. In recent decades, tea farmers have increasingly left their tea gardens fallow or stopped growing tea altogether. The younger generation mainly moved to the cities. This development hit Guizhou particularly hard and local tea varieties such as Jingshan Bai Cha almost completely disappeared.
Zheng Liang has started to re-cultivate such old tea gardens and produces medium to high quality teas there. This includes the special tea plants of Jingshan Bai Cha, which he propagated and built up from old, wild growing tea plants only a few years ago. The variety is currently grown on an area of just one hectare.
The tea leaves (see picture on the right) stand out due to their bright, shiny green colouring. A leaf with one bud is harvested. The high quality of the tea is shown not least by its fully preserved leaves. Jingshan Bai Cha has a very special taste with a unique mixture of flavours. In addition to slightly fruity parts such as apples and pears, there are other notes reminiscent of spices and cinnamon. No chemical additives are used in the tea gardens of Zheng Liang. Weeds, for example, are removed by hand. A special feature of this variety is also the high content of theanine of 6-9 percent of the tea dry matter.
Production and packaging: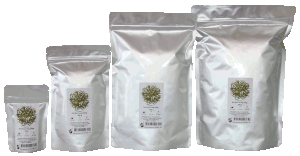 Packaging sizes
100% handmade. We get this tea directly from small producers and tea farmers in China. The tea is grown and processed in a traditional way. Such high qualities are usually produced by the tea farmers only for the local Chinese market. Therefore we are regularly on site with the producers. The direct contact to the tea farmers enables us to offer very reasonable prices with outstanding tea quality. All our teas are checked for pesticide residues by an independent laboratory. We deliver the tea in re-sealable and aroma-safe stand-up pouches made of ALU/PE.
More Information

| | |
| --- | --- |
| Charge | L003020 |
| Delivery Time | deliverable instantly |