Delivery Time
deliverable instantly
The most popular tea from Suzhou and one of the top teas from China in high quality. Very fine and mild aroma. With 65.000 buds per kilogram this tea is a speciality in our offer. Every single bud is picked by hand. The tea plants thrive between certain types of fruit trees, which gives it its unique aroma.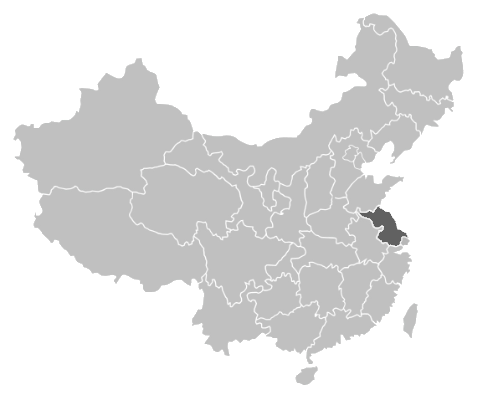 Origin:
Suzhou / China
Recommendation for the preparation:
| | | |
| --- | --- | --- |
| | | |
| 15 g / litre | 3 min | 70-80 ℃ |
Water not too hot. Pour the tea into the water, do not pour it over.
Harvest time:
about 10 April 2020 (spring harvest).
Volume discount:
You will receive a discount of up to 10 percent on the purchase of our teas. Details can be found here.
Special characteristics: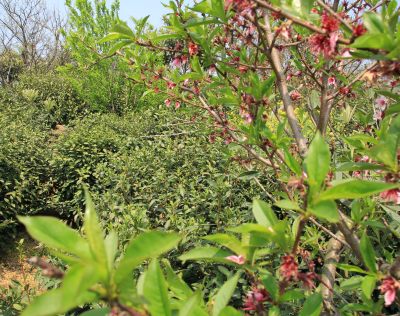 Tea bushes between fruit trees
This tea has been roasted at a low temperature and has a wonderfully mild aroma that develops slowly and continuously. It can be infused several times over a longer period without becoming bitter. The tea consists of small, young buds with fine hairs.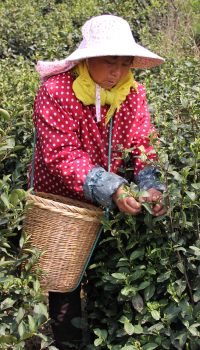 Harvesting and processing takes place in a period of only 10-15 days per year. After that, only one Chao Qing is produced from the same tea plants, but it differs significantly from the real Pi Lo Chun (or Bi Lo Chun) due to larger buds and other characteristics.
The tea plants are traditionally not grown in large plantations in Suchou, but grow scattered among apricot, plum, orange and persimmon trees, which are in bloom at harvest time. This cultivation method has a special influence on the tea. The pollen of these trees is deposited on the finely hairy tea leaves, which later on, when infused, also shows as a slight cloudiness. The fruit trees also interact with the tea plants through their root system, which has a special influence on the taste of the tea.


Production and packaging: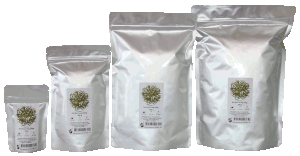 Packaging sizes
100% handmade. We get this tea directly from small producers and tea farmers in China. The tea is grown and processed in a traditional way. Such high qualities are usually produced by the tea farmers only for the local Chinese market. Therefore we are regularly on site with the producers. The direct contact to the tea farmers enables us to offer very reasonable prices with outstanding tea quality. All our teas are checked for pesticide residues by an independent laboratory. We deliver the tea in re-sealable and aroma-safe stand-up pouches made of ALU/PE.
More Information

| | |
| --- | --- |
| Charge | L00129 |
| Lieferzeit | deliverable instantly |